I congratulate you for the admission result. You deserve to study in Cluj-Napoca, a European city, known as the friendliest city in Eastern Europe. Let me give you some advice before traveling to Romania.
Accommodation in Cluj-Napoca
A newcomer will waste valuable time looking for apartments if he is looking in a wrong company, with a young agent with no experience and no idea about what his clients want. Uniassist is working for more than ten years in real-estate. We know immediately what our customers want. For details, go to the APARTMENTS&HOUSES FOR RENT page.
Pay attention to the ads on the Internet. Some are old, some show pictures of apartments that are not real. Uniassist is trying to provide videos of the apartments for rent, photos and real maps.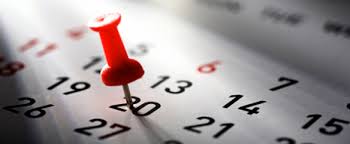 When to look for accommodation in Cluj?
In August it is the best time to start looking for an apartment if you want to find the best places around the university. Therefore, Uniassist propose a collaboration that does not require your direct presence here, which help you save the cost of a trip to Cluj. Uniassist is available to start a correspondence by e-mail, we will be able to send you pictures or videos of apartments, so you don't have to move to Cluj before September. With the experience we have gained, we know exactly the kind of locations and area that most of the students prefer.
Of course, Uniassist is available especially when you come in person to Cluj. In this case, we will help you familiarize yourself with the city and its culture, and we will try to find the home you are looking for.
Where to find accommodation in Cluj?
Most of the students live in Centre, in Zorilor, Mănăştur or Plopilor area. For students of UMF (University of Medicine and Pharmacy), the best locations are Zorilor and Centre, identified in the picture bellow with the red circles. For students of USAMV, the best locations are Center, Plopilor and Mănăştur area, identified in the picture bellow with the blue circles. Although the houses in these areas are more expensive, there are great benefits. You don't need to take a taxi in order to go to school, or to wake up an hour before leaving. In the breaks between classes, if you live nearby, you can go home to shower, change or relax, because sometimes you have classes from dusk till dawn. Remember: the location of the apartment is ALWAYS more important than the condition of the apartment.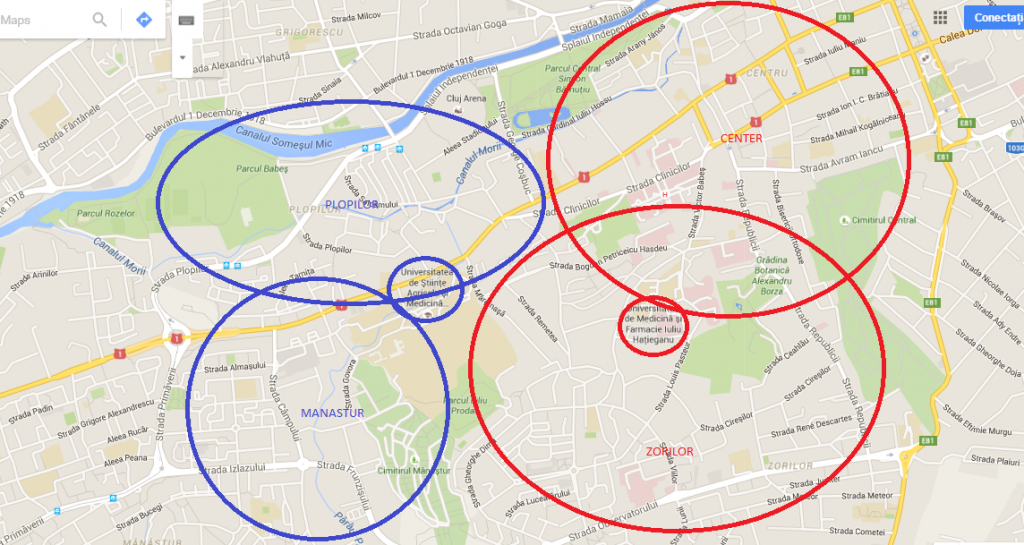 How to find accommodation in Cluj?
There are a lot of real-estate agencies in Cluj, but not all of them have experience with foreign students. The real-estate agents are always changing as they are very young and don't know what to do or don't have the adequate experience to look for apartments that meet their clients' requirements. Therefore, you must pay attention to what they are offering.
Stay away from people who wish to carry out real estate transactions without having documents for this (without legal status or real estate company). These people work illegally and put you in an illegal situation.
You may check our company here.
In accordance with Romanian law, if you do not receive a tax receipt from the real estate agency, you have the right not to pay its commission (for the rental contract or for any other real estate transaction).
Please consider the following tips:
Pay attention to the distance to the university. Look on the map on your smartphone and calculate the distance from the apartment to the university. 1500 meters far from school will be ok. That means 15 minutes walking.
Look for facilities in the apartment! See if you have central heating, oven (this is not included sometimes), and if everything is metered. It's possible to find apartments without central heating. Surprisingly, in these ones you will pay less money for winter heating.
Usually, the rent does not include the charges. If the rent is 300 euros, that means you will pay monthly 300 euros directly to the owner, and additionally, you will pay charges depending on how much you have consumed (water, gas, electricity) plus some fixed charges, such as internet or garbage. On average, all costs (common charges plus water, electricity, gas, internet) should not exceed more than 70 euros for an apartment with an area between 40 and 50 square meters. But that always depends on how much you consume.
Do not sign a contract if you don't understand what is written in it. Ask for an English and Romanian contract. If the owner refuses, step away and look for something else. Don't worry, you will always find something else.
If you've paid a deposit and a rent, ask for the key of the house. Make sure you always pay directly to the owner, and never to a mediator. If possible, ask for a bank transfer. That makes the transaction safer and more transparent. If the owner refuses, you shouldn't worry. Romanian people are still not very familiar with the banking technology.
There are some individuals or some students who rent houses to make extra money. It would be good to know something about them before making transactions with them. Usually, these people don't earn legally their money. If anything happens, they cannot be held responsible.
For a long-term contract, the owner will never raise the rent price. The strategy to benefit of a lower housing: respect and be kind to the owner and, especially, keep the property clean without vandalizing it.
In order to buy the necessary things for daily use, lots of supermarkets are waiting for you.
In Romania, you don't pay for home insurance or local taxes.
OTHER TIPS
Rental agreement
Over time, Uniassist has perfected its activity. Thus, our company not only offers real estate advice, but also perfects the documents necessary for the rental process. The contracts drawn up by Uniassist are always contracts in Romanian and one of the languages ​​of international circulation: French or English. Uniassistes clients do not sign documents they do not understand.
Deposits
When booking an apartment or at the start of the rental process, the owners always ask for a deposit. This deposit is not money that belongs to the owner, but money that belongs to the client, but that is withheld by the owner during the lease. For a long time, the deposit was always the equivalent of rent. But, in time, as the owners invested a lot of money in the finishing and modernization of the apartments, to minimize the risks, some of them began to ask for a deposit representing the equivalent of two rents. Do not be afraid of these claims. They are normal when the apartment offers superior conditions. The deposit must be stipulated in the contract under specific conditions.
Maintenance costs
Normally, in Cluj-Napoca, the rental price does not include the price of maintenance costs. Maintenance costs correspond to the consumption of water, electricity and gas. Also included in the maintenance fee is the TV and Internet subscription, as well as the common expenses of the block. On average, a person pays maintenance costs of around 50 euros / month, if and only if that person lives alone. If you live with someone else (shared accommodation), your expenses can be reduced to 30 euros / month / person.
REAL ESTATE AGENCY FEES
In Cluj, normally, the agency fees for a rental transaction do not exceed 50% of the first rent plus taxes. For example, if you rent an apartment for 400 euros / month, you have to pay the real estate agency a fee of 200 euros plus taxes. You only pay these fees once. Uniassist claims, as agency fees, 50% of the first rent, taxes included. If, for example, you rented an apartment with the help of Uniassist and the rent for this apartment is 400 euros, you will pay Uniassist, as real estate costs, 200 euros, taxes included. Remember, you don't have to pay any fees if you don't rent an apartment with the help of the real estate agency that claims these fees. In addition, if the real estate agency does not offer you a receipt for the fees, according to the laws of Romania, you need to pay nothing.
Very important !!!
When you start looking for a house, always have cash on you and, if you like the house, do the contract immediately. Sometimes, after the customer leaves, another client comes and rents the house.
Don't allow anyone come into your home under any pretext. Always call the landlord if someone wants to come into your house.
Remember, we are at your disposal, both to find the house you want and to help you with the transaction you want to do (even if you choose not to do it with our help).
In case you wish to benefit from our services, we will provide transportation from the airport to the apartment.
For any details, Dorin Muresan (English and French speaker), our CEO, is at your disposal:
email: imoassist@gmail.com
0040 742504519